Staplcotn - Healthy Workplace
Company Profile
Founded in 1921, Staplcotn is the oldest cotton marketing cooperative in the United States and is solely owned by the cotton producers. With 14,000 farm accounts throughout 11 states, it's also one of the largest cotton cooperatives in the United States. Staplcotn provides numerous services to members, including domestic and export marketing, cotton warehousing and agricultural financing.
As the cost of healthcare continued to rise and chronic diseases became more prevalent, Staplcotn began looking into worksite wellness in 2007. As a self-insured business, they recognized the importance of keeping healthcare costs down and making employees' health a priority. That fall, Staplcotn partnered with Blue Cross & Blue Shield of Mississippi to become one of the first Healthy Workplace groups. They began by offering a health risk assessment to employees who then received a personal wellness profile detailing their current health status. In 2009, Staplcotn began offering onsite health screenings which helped employees better understand their current health. With the help of BCBSMS, Staplcotn began offering challenges and programs around nutrition, exercise and quality of life. They began tying these challenges into their incentive program, which offered monetary incentives for completing at least two Healthy Workplace challenges per year, as well as completing their annual Healthy You! wellness exam.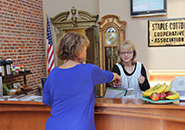 The Results
Over the past eight years, Staplcotn's incentives, challenges and overall changes have really inspired employees to participate in health and wellness activities. Employees are also aware that Staplcotn has made their health a priority and truly cares about their health and well-being. And thanks to the incentive program, more and more employees are engaging in physical activity, practicing better eating habits and managing their stress. Since becoming a Healthy Workplace, Staplcotn has seen improvements in many different facets of their employees' health, including reduced tobacco use, reduced blood pressure risk and an increase in regular physical activity.