Blue Primary Care... your home for wellness
A new era is beginning in primary care for Mississippi patients and physicians with the introduction of Blue Primary Care. In recent years, health statistics and rising costs of care continue to show that the established way of caring for patients is broken… with many patients only seeking care for health issues after a major health event such as a heart attack or stroke.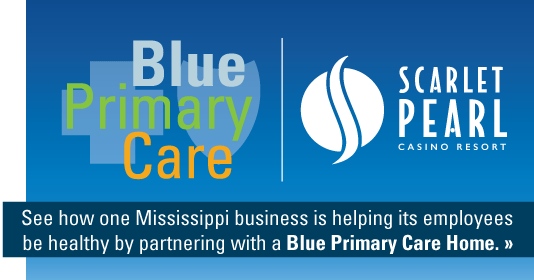 We're working with our Blue Primary Care Network Providers to shift the focus of care to preventing those health issues and chronic conditions before they result in a life-changing event.
Blue Primary Care puts you at the center of your care and encourages ownership of health through preventive care facilitated by an annual wellness visit and more frequent follow up visits for those of us with increased risks for chronic conditions like high blood pressure, high cholesterol and diabetes.
Blue Primary Care is a comprehensive approach to patient-centered care that involves a multidisciplinary team of physicians, nurses, clinic staff, wellness coaches and coordinated specialty care when it is needed. This team serves as your "home" for wellness and a starting point for all of your care needs.
Your Blue Primary Care Home is:
Where you visit each year for your annual Healthy You! wellness visit and screenings
Where you go throughout the year for care in managing your blood pressure, blood sugar and cholesterol
Where you go when you require care that needs to be coordinated with another Network Provider or you need to be referred to a Network Specialist or Center of Excellence.
In 2017, Blue Cross & Blue Shield of Mississippi introduced the first Women's Wellness Home, giving women the opportunity to have their healthcare needs throughout life met with their OB/GYN. Learn more about Blue Primary Care Women's Wellness Home.
Click the link to find a Blue Primary Care Network Provider near you.