Healthy Harvest: How to have a Healthier Thanksgiving
Not everyone wants to be "healthy" on Thanksgiving. From cornbread dressing and mashed potatoes to several helpings of pumpkin pie, there's seemingly no escaping the food we eat at Thanksgiving.
We're bringing some ideas and new traditions that you and your family can enjoy every year at Thanksgiving – along with your favorite holiday food in moderation. A recipe for a healthy Thanksgiving:
1. Plan a "Turkey Trot".
Walk, run or "turkey trot" with your family in the morning before the cooking starts or after everyone's tummies are full. Check locally to see if there are any early morning 5K walks, take a nature hike or take the kids around the neighborhood to get everyone's heart pumping.
2. Eat breakfast.
Be sure to eat whole-grains, proteins and fibers for breakfast.
3. Try a new healthy dessert.
4. Get outdoors.
The urge to grab a spot on the couch after Thanksgiving lunch or dinner will be very tempting. Try overcoming that instead and encourage your family to step outside for whatever gets everyone's bodies and brains moving. This could be flag football, a soccer game, shooting hoops, a scavenger hunt or even tag.
5. Skip the seconds.
Keep it at one plate and remember most holiday foods are better the next day! If you limit yourself to one plate, you can leave room for a slice of pie!
6. Hydrate!
Drinking water can help manage your appetite, keep you hydrated from the sodium-loaded foods and can help kick start your metabolism. Don't forget water with your meal can help aid digestion and prevent constipation.
7. Enjoy!
Above all, enjoy your time together with family and friends.
---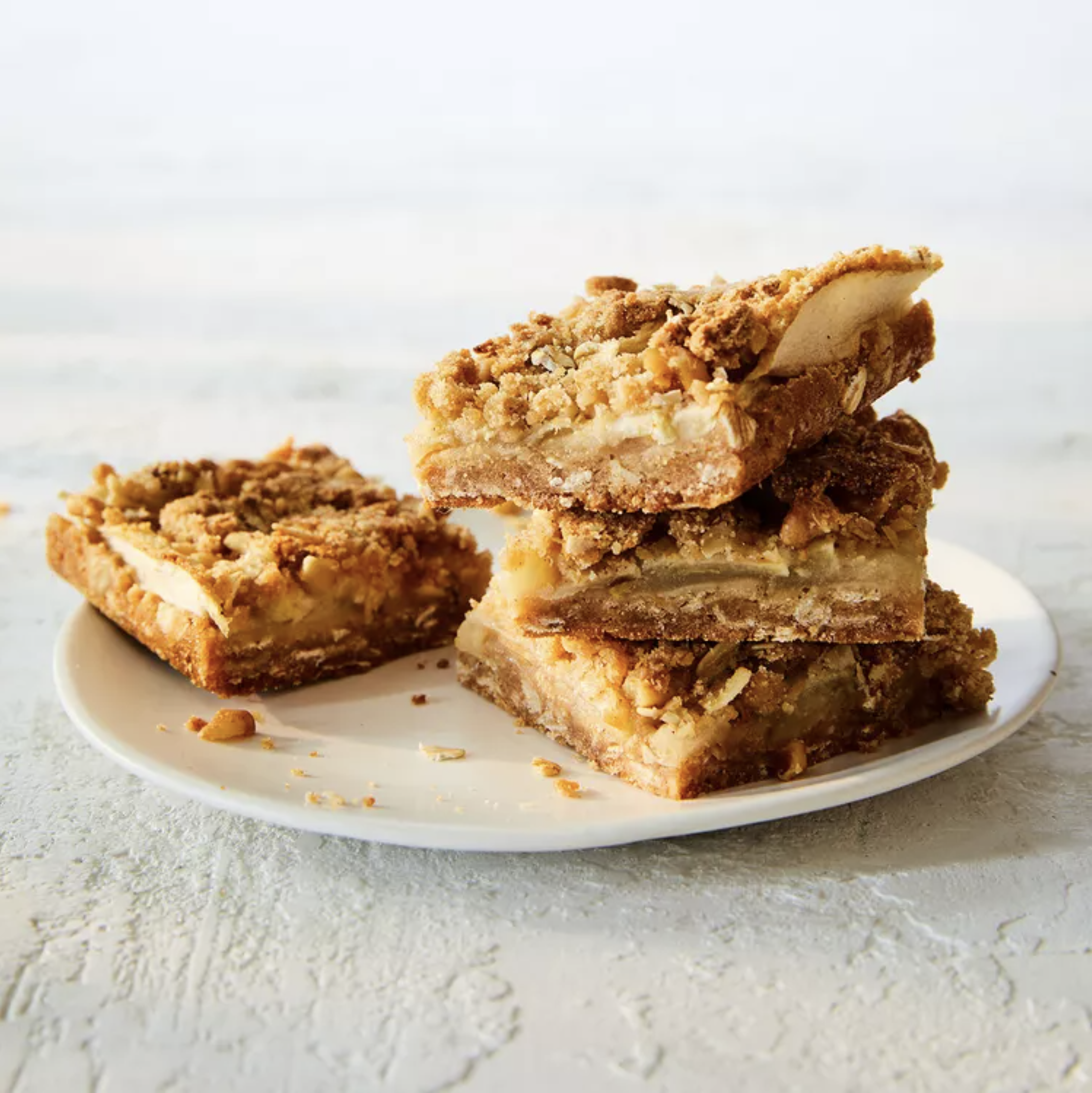 Fresh Apple Squares
Total Time: 50 minutes
Servings: 16
Ingredients
1 ½ cups all-purpose flour

1 cup old-fashioned oats

1 cup packed light brown sugar

1 tsp. grated lemon zest

¾ tsp. baking powder

½ tsp. salt

½ tsp. ground cinnamon

¼ tsp. ground nutmeg

3 tbsp. canola oil

¼ cup apple juice concentrate, thawed

2 medium tart apples, such as Granny Smith, peeled and thinly sliced

¼ cup coarsely chopped walnuts, optional
Directions:
Preheat oven to 350 degrees. Coat a 9-inch-square baking pan with cooking spray.

Combine flour, oats, brown sugar, lemon zest, baking powder, salt, cinnamon and nutmeg in a large bowl. Work in oil and apple juice concentrate with your fingers until coarse crumbs form.

Firmly press 2 cups of the oat mixture into the prepared pan. Arrange the apples over the crust in three rows. Mix walnuts into the remaining oat mixture. Sprinkle the mixture evenly over the apples and pat firmly into an even layer.

Bake for 30 to 35 minutes or until the top is golden brown and the apples are tender when pierced with a sharp knife. Cool completely on a wire rack.
Sources: