Celebrating National Nutrition Month
National Nutrition Month® is an annual campaign created by the Academy of Nutrition and Dietetics and celebrated during the month of March. The theme for National Nutrition Month® 2022 is "Celebrate a World of Flavors." This encourages all individuals to inclusively embrace the flavors of cuisines and cultures all over the world.
How can we celebrate?
There are hundreds of different cuisines in the world. A cuisine is a unique set of cooking practices and traditions, often associated with a specific culture or region. Each cuisine involves food preparation in a particular style, aromatic flavors of herbs and spices native to specific regions, and food and drink of particular types to produce a delicious representation of culture and tradition. How can we celebrate a world of flavors?
Here are some ideas:
Try new recipes from a variety of cuisines

Of the hundreds of cuisines in the world, there are a few that are more popular in the United States. It is not uncommon to find a local Thai, Mexican, Japanese, Chinese, Indian, Italian, or Greek restaurant nearby. However, we are less likely to bring these cuisines home and try a recipe in our own kitchen. Find a recipe of one of your favorite dishes and put your own twist on it. This is a great opportunity to get children involved in the kitchen and teach them about a variety of cultures and cuisines.

Explore new flavors

Each region has its own unique cooking styles and flavors that distinguishes itself from other parts of the world. For example, flavors and ingredients unique to Greece include olive oil, rosemary, oregano, thyme, bay leaves, and lemon. Compare this to Indian cuisine that uses many spices such as cumin, coriander seeds, ginger, garlic paste, turmeric, paprika, ground red pepper flakes or chili powder. Explore new flavors and try a cuisine that you have never tasted before! You may just find your new favorite meal!

Learn about the history and culture behind cuisines

Food is a very important part of culture that is passed down from one generation to the next. Traditional cuisine is a representation and expression of cultural identity similar to art, architecture, human behavior and attire. Embracing the culture includes learning about the tradition behind cuisines.

Spread the word

Another way to celebrate National Nutrition Month® is awareness. Share this campaign on your social media such as Facebook, Instagram and Twitter. Post a photo of a dish you create or a new cuisine you try with the hashtag #NationalNutritionMonth.
For more information on National Nutrition Month® you can visit the Academy of Nutrition and Dietetics website at www.eatright.org.
Lentil, Pepper and Spinach Curry
Cuisine: Indian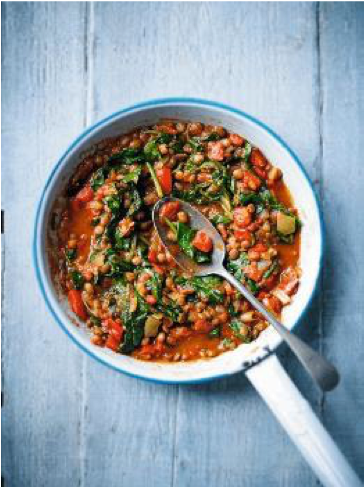 Ingredients
2 cups basmati rice

1 tbsp. olive oil

1 onion, chopped

1 red pepper, diced

½ cup red curry paste

1½ cups can lentils, drained

1½ cups chopped tomatoes

8 cups raw spinach
Directions
Boil the rice according to package instructions, then drain well.

Meanwhile, heat the oil in a large frying pan. Add the onion and pepper and sauté for 4-5 minutes, until softened.

Stir in the curry paste, lentils and chopped tomatoes and bring to a boil.

Simmer for 1 minute, then add the spinach and stir until wilted. Serve with the cooked rice.
Recipe Source: www.waitrose.com