Team Blue & Our Community
As part of our efforts to help build a healthy Mississippi, our employees are also taking on the challenge of helping to enrich our communities. Through our Team Blue program, our employees are actively engaged in giving back to the community through thousands of hours of community service each year.
We encourage volunteerism as part of a healthy lifestyle, and we support organizations that are also committed to promoting health and wellness in our community. Some of the organizations benefiting from our employees' efforts include Habitat for Humanity, the Salvation Army, Stewpot Community Services, Gateway Rescue Mission, the Mustard Seed and other community events and activities geared toward improving the health and quality of life of Mississippians.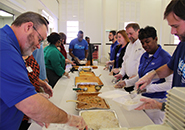 Through the Habitat for Humanity Mississippi Capital Area (HFHMCA) Covenant Build Project, Blue Cross & Blue Shield of Mississippi recently completed its fifth home in less than three years. It was the third home designated to be tobacco-free. For each build, Team Blue employees provide 100% of the volunteer labor during the 8-10 week build process with support from experienced construction professionals.
Community partners share their Team Blue experiences in the videos below.
Community Programs and Contributions
In addition to its ongoing volunteer support in the community, Blue Cross & Blue Shield of Mississippi serves as a contributor to organizations and events celebrating our state's greatest assets, our people and our culture. Through partnerships with the Mississippi High School Activities Association, the Mississippi Sports Awards, Mississippi Sports Hall of Fame, the State Games of Mississippi and others, Blue Cross & Blue Shield of Mississippi supports students and athletes as they pursue achievements both on and off the field of play.
We are proud to help to preserve Mississippi's rich cultural heritage for future generations with our support of a number of projects across the state including the GRAMMY Museum Mississippi, 2 Mississippi Museums Project, Mississippi Museum of Art, Mississippi Children's Museum, the B.B. King Museum and Delta Interpretive Center and many community festivals and events showcasing and celebrating the best of who we are.
The Get Ready to Run School Program, developed by our own health and wellness experts, is helping students in a growing number of schools learn the benefits of running, physical fitness and healthy lifestyle choices in a fun and rewarding way. Our goals are to assist K-5th graders in building endurance, setting and accomplishing long -term fitness goals and enhancing their self-esteem while teaching valuable lessons about making health and fitness a regular part of their lives. Visit www.getreadytorunms.com to learn more.
Blue Cross & Blue Shield of Mississippi Foundation
Our efforts to shape a healthy future for our state are also carried out through the Blue Cross & Blue Shield of Mississippi Foundation, a subsidiary of Blue Cross & Blue Shield of Mississippi. The Foundation provides funding to organizations promoting health and wellness initiatives in schools, colleges and universities, communities and more. You can learn more about the Foundation's work at www.healthiermississippi.org.