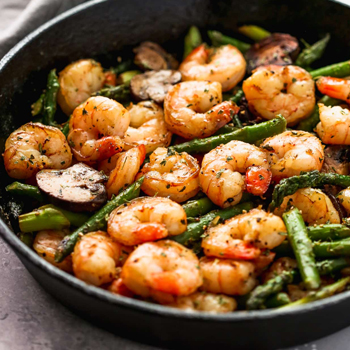 Shrimp, Mushroom & Asparagus Stir-Fry
Yields: 4 servings Prep: 25 min


Ingredients
8 oz. portobello mushrooms, sliced
1 bunch asparagus spears, cut into 2" pieces
1 Tbsp fresh ginger, minced
2 tsp garlic, minced
1 lb. shrimp, peeled and deveined
1/3 cup water
2 Tbsp sesame oil
1 Tbsp low-sodium soy sauce
1 Tbsp orange juice
3/4 cup dry couscous
1/2 cup green onions, sliced
3 tsp canola oil
1 cup frozen peas
Directions
Bring 1 cup of water to boil in microwave. Add couscous and green onions to a bowl. Add boiling water and cover with lid or foil, let sit for 10 minutes.


Add 1 tsp oil to a pan over medium-high heat. Add mushrooms, asparagus and peas. Saute 3-4 minutes. Remove from heat and transfer vegetables to a plate.


Add 1 tsp oil to the pan over medium-high head and add ginger and garlic. Saute 1 minute. Add shrimp. Saute until cooked, about 2-3 minutes.


Add water, sesame oil, soy sauce and orange juice to shrimp. Add vegetables and stir everything together well.


Remove stir-fry from heat and serve over couscous.