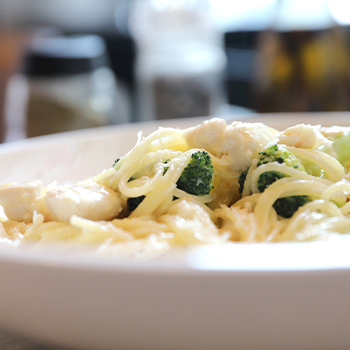 Light Alfredo Pasta
Yields: 8 servings Prep: 45 min


Ingredients
1 onion, diced
1 tsp garlic, minced
1 tsp oil
2 cups skim milk
1 cup chicken broth
3 Tbsp flour
1/4 tsp black pepper
1/2 cup Parmesan cheese
1 lb. pasta
1 package frozen broccoli
Directions
Heat oil in skillet over medium heat. Add onion and garlic and saute.


In a small saucepan, stir together milk, chicken broth, flour and pepper over low heat until sauce thickens. Stir in Parmesan cheese.


Cook pasta according to package directions adding broccoli to the pasta for last few minutes of cooking. Drain pasta and broccoli.


Toss pasta and broccoli with sauce.