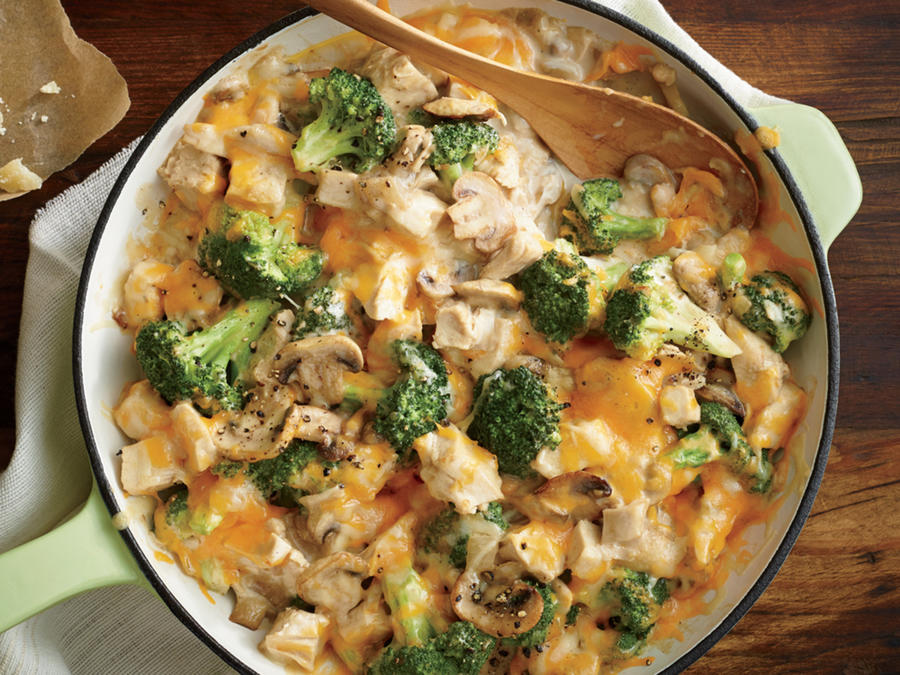 Creamy Chicken and Broccoli Casserole
Yields: 6 servings
Ingredients
1-12 oz. steam-in-bag broccoli florets
1 Tbsp canola oil
1 C yellow onion, chopped
16 oz. presliced mushrooms
3 Tbsp all-purpose flour
1 1/2 C fat-free milk
12 oz. skinless rotisserie chicken, chopped
1/2 C fat-free Greek yogurt
1/4 C light canola mayonnaise
1/2 tsp black pepper
1/4 tsp salt
1/2 C sharp cheddar cheese, shredded
1/4 cup Parmesan cheese, grated
Directions
Preheat broiler.
Prepare broccoli in microwave according to package directions.
Heat a large oven-proof skillet over medium-high heat. Add oil to pan; swirl to coat. Add onion and mushrooms; cook 12 minutes or until mushrooms brown and liquid evaporates, stirring occasionally. Sprinkle mushroom mixture with flour; cook 1 minute, stirring constantly. Stir in milk. Bring to a boil; cook 3 minutes or until thick and bubbly. Stir in broccoli and chicken; cook 1 minute. Remove pan from heat.
Stir in yogurt, mayonnaise, pepper and salt.
Top evenly with cheeses; broil in oven for 2 minutes or until evenly browned.