Trustmark National Bank - Healthy Workplace
Company Profile
Trustmark is one of the South's most respected banks, with nearly $12 billion in assets and over 3,000 associates in more than 200 locations in Alabama, Florida, Mississippi, Tennessee and Texas. Trustmark has been in business since 1889 and provides banking, wealth management and insurance solutions through its subsidiaries, including Trustmark National Bank, Trustmark Investment Advisors, Inc. and Fisher Brown Bottrell Insurance, Inc.
Business Challenge
Trustmark, a leader in the financial services industry, recognized the need for wellness promotion and education for associates as healthcare costs continued to increase. Trustmark was aware of the fact that the health of the company is directly related to the health of its associates. Trustmark partnered with Blue Cross & Blue Shield of Mississippi to become a Healthy Workplace by offering healthcare coverage that would provide associates with health management and preventive services at lower costs.
The Solution
In May 2010, Trustmark implemented the Healthy Workplace initiative through Blue Cross & Blue Shield of Mississippi. The programs within the Healthy Workplace initiative include a worksite tour to identify opportunities to make the workplace healthier and risk assessments to evaluate individual health as well as lifestyle coaching from dietitians and fitness professionals.
Additional programs include training for managers to help educate associates on the workplace wellness program and a health fair that offers associates annual health screenings and fitness evaluations. The Healthy Workplace initiative also provides results for data analysis and reporting tools to measure the number of associates utilizing health and wellness benefits as well as support from a dedicated team of health and wellness professionals to offer associates diet, nutrition and lifestyle programs.
The Blue Cross & Blue Shield of Mississippi Healthy You! wellness benefit is also available within the Healthy Workplace initiative. Through this wellness benefit plan, Trustmark provides associates with an annual wellness visit with a Healthy You! Network Provider at no out-of-pocket cost as well as age and gender specific health screenings that capture cholesterol, blood pressure, blood sugar and weight.
The Results
Data was compiled from health screenings and assessments of associates to capture cholesterol, blood pressure, blood sugar and weight. Since the introduction of the Healthy Workplace initiative and the Healthy You! wellness benefit, Trustmark has seen an increase in the number of associates that utilize the health and wellness benefits such as health screenings and assessments illustrated in the progress chart.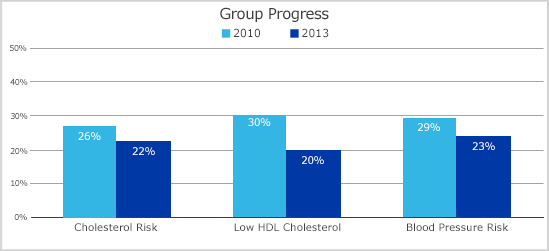 You will be redirected to myBlue. Would you like to continue?
Healthy Workplace Profiles