Puckett Machinery Company - Healthy Workplace
Company Profile
Puckett Machinery has been a family owned business since 1982. The company is a construction equipment dealer based in southern Mississippi, with six dealerships in Flowood, Jackson, Meridian, Brookhaven, Natchez, Hattiesburg and Gulfport. They offer top quality used construction equipment for sale or rent, as well as other types of construction equipment.
Business Challenge
After a review of their utilization and cost expenditures for the 2008 - 2009 benefit plan year, the group wanted to change the way employees viewed their health and how they used their health benefits. They approached Blue Cross & Blue Shield of Mississippi about becoming a Healthy Workplace.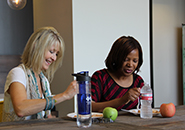 The Solution
The group began implementing workplace cultural changes to make a healthier work environment accessible to their employees. Changes were made in the snack and drink vending machines, as well as to the types of foods offered during company meetings and social gatherings. Employees and their covered spouses were offered a Health Risk Assessment (HRA) during the first year of Healthy Workplace. Once data was compiled, they could see the top health needs and interests of the employees. Activities were designed based on the needs and interests and then provided to the group.
In the second year, they repeated the HRA and gave employees access to onsite health screenings to gather height, weight, blood pressure, cholesterol and glucose. This, combined with the HRA, gave a more specific snapshot of the top needs and interests of the group. Through these results and with assistance from the Blue Cross & Blue Shield of Mississippi Health & Wellness Team, the company began to offer education in forms of presentations and handouts on healthy eating, exercising, stress management and being tobacco-free.
Beginning with the third year, the group developed an incentive plan called "Know Your Numbers," which allowed participants to complete the HRA and onsite health screening and receive a monetary reward based on their improvements. Out of 477 eligible to participate in the incentive, 236 received the monetary incentive award.
The Results
The goal of initiating worksite wellness was to increase health awareness, and the company has been successful in promoting and encouraging employees to utilize the Healthy You! wellness benefit. In 2014, they had a 35 percent compliance rate compared to other similar lines of business with a 16 percent compliance rate.
Other successes seen include HRA participation percentage which has increased from 85 percent in 2009 to 99 percent in 2014. Employee tobacco use and high cholesterol have decreased, along with high blood pressure.