Paul Moak - Healthy Workplace
Company Profile
Paul Moak Automotive is a locally-owned and operated auto dealership in Jackson, selling and servicing Volvo, Honda and Subaru automobiles. Paul Moak Automotive is an established and well-respected leader in the business community. The company employs 62 people, the majority of whom (77%) are male.
Business Challenge
The leadership at Paul Moak Automotive has been a long-time partner with Blue Cross & Blue Shield of Mississippi. In an effort to launch worksite wellness and better manage the company's healthcare costs, discussions began with the Health and Wellness Service team at Blue Cross & Blue Shield of Mississippi. In particular, assistance was needed in building and supporting a health and wellness culture in a work environment that lacked opportunities for exercise and depended on its employees always working to service customer needs.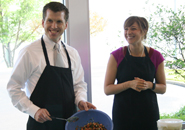 The Solution
In July 2010, Paul Moak Automotive and Blue Cross & Blue Shield of Mississippi formally began the Healthy Workplace journey. Paul Moak's commitment to be a tobacco-free workplace was the first step in the journey, quickly followed by the implementation of the Healthy Workplace service model.
Changes were simple at first, and promoted through necessary management support. Minor changes were made in onsite vending machines. A walking route on their property, known as the "Paul Moak Half Mile," was mapped out for employees to use before, during and after work.
Next, employees completed Health Risk Assessments and health screenings to baseline their health status and identify any potential health risks. With this data in hand, the Blue Cross & Blue Shield of Mississippi Health and Wellness Service team was able to design activities and programs based on the needs and interests of the Paul Moak employees.
As the Healthy Workplace program began to grow at Paul Moak, so too did the commitment from employees and management. Onsite presentations and cooking demonstrations provided hands-on exposure to health and wellness lessons. Individual counseling sessions began to support healthy eating and exercise. An offsite grocery store tour led by a Registered Dietitian from Blue Cross & Blue Shield of Mississippi gave employees new insight into healthy shopping.
The impact of the Healthy Workplace program is evidenced in the data. The average blood pressures of employees, for example, has declined from a dangerous 134/90 to a healthy 118/76. Success is being seen in other key aspects as well:
Today, Paul Moak Automotive is seeing the benefits of a Healthy Workplace. A company incentive plan support employees and promotes participation in "lunch and learn" presentations, onsite physical activity, and local events such as 5K races. The health, morale, energy and presenteeism of employees is also improving and demonstrating that now, more than ever, it's good to partner with Blue.