Healthy Harvest Tips for Thanksgiving
It's our favorite time of the year! The decadent smells of pumpkin, cider, cinnamon and brown sugar are in the air. During this time many of us are looking forward to gathering with family, the cooler weather, football, harvest festivals and most importantly… THE FOOD! Time spent with family making memories and honoring traditions, including homemade recipes, is a part of the magic of this season. We've gathered a few tips on how to maintain health for a happy and healthy Thanksgiving.
How to have a healthy Harvest
Enjoy it
Do not stress too much about counting calories, avoiding food groups or holding out on your favorite dessert. Enjoy your holiday and eat some pecan pie!
Do not skip meals
Yes, you heard it! Do not skip meals, even on Thanksgiving. We tend to skip breakfast or lunch to "save room" for Thanksgiving dinner where we typically overeat. Keep a balanced meal pattern to avoid overeating at that Thanksgiving dinner. Make sure to eat three meals a day with snacks in between.
Keep moving!
After a family gathering, go for a walk. It's easy to kick back and sleep or stay sedentary all afternoon after eating a Thanksgiving meal. It is important to get up and stay moving. If you typically go for walks during the week or exercise at home include that into your Thanksgiving day! Throw the football with your kids, walk a local park or in your neighborhood while your grandchildren ride their bikes, etc.
Load up on the vegetables
Fill half of your plate with fruits and non-starchy vegetables. These are typically the most nutrient dense sides and will not make you feel so stuffed or bloated. These are considered "free foods" that do not affect your blood glucose such as green beans, broccoli, carrots, okra, squash, etc.
Be aware of your portion sizes
Pay attention to what you are filling your plate with, especially on the carbohydrate heavy sides. You don't have to have a portion of each item that was brought to the gathering. Choose one to two of your favorite starchy side and enjoy those. For example, mine is my mom's dressing and grandmother's macaroni recipes.
Eat slowly, and Take a break
Try to eat your meal at a slower pace. When we eat, our bodies produce a hormone called leptin that lets us know when we are satisfied or are getting full. However, it takes a few minutes after eating for this signal to be sent to the brain. If we eat our food too fast we may become uncomfortably full. So, it is important to eat slowly so we do not overeat. Also, take a break before you go for a dessert.
Remember…
It's a Holi-DAY not a Holi-WEEK. Get back on track after enjoying your time together. Drink plenty of water, move your body and don't feel obligated to eat Thanksgiving leftovers for a week.
---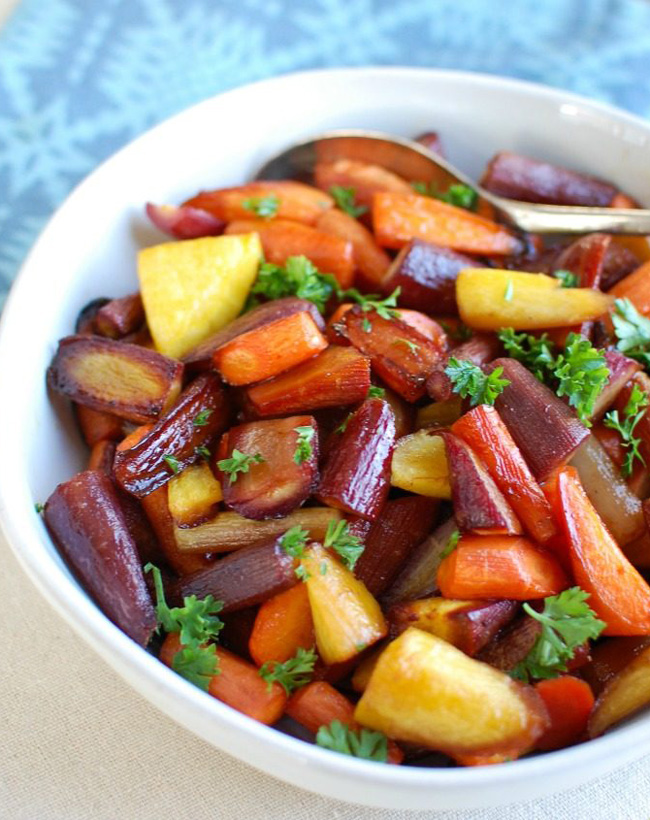 Balsamic Roasted Carrots
Ingredients
2 tablespoons balsamic vinegar

1 tablespoon pure maple syrup

2 tablespoons olive oil, divided

1 pound carrots, preferably multicolored, cut into 2-inch pieces

¼ teaspoon salt

2 tablespoons chopped toasted hazelnuts (Optional)
Directions
Preheat oven to 400 degrees F. Whisk vinegar, maple syrup and 1 tablespoon oil in a small bowl; set aside.

Combine carrots, salt and the remaining 1 tablespoon oil in a large bowl; toss to coat. Spread in a single layer on a rimmed baking sheet.

Roast the carrots until starting to brown and almost tender, but not completely cooked through, 16 to 18 minutes. Drizzle the balsamic mixture over the carrots, and using a spatula, toss to coat completely. Continue roasting until the carrots are tender and glazed, about 5 minutes more. Sprinkle with toasted hazelnuts, if desired. Serve immediately.