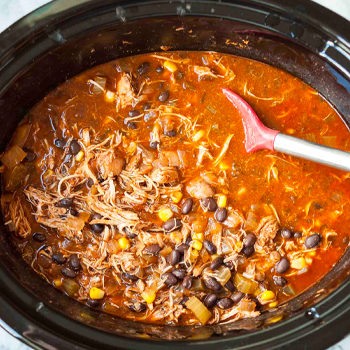 Slow Cooker Chicken Chili
Yields: 4 servings Prep: 25 min


Ingredients
3 (15-oz.) cans unsalted cannellini beans, rinsed, drained and divided
1 (25-oz.) can hominy, rinsed and drained
3 cups unsalted chicken stock (such as Swanson)
2 cups peeled, cubed butternut squash
1 cup chopped yellow onion
2 Tablespoons ground cumin
1 Tablespoon chili powder
1/2 teaspoon kosher salt
2 garlic cloves, chopped
2 oregano sprigs
1 (5-oz.) can diced green chiles, drained and divided
1 1/4 pounds skinless, boneless chicken thighs
1/2 cup plain low-fat yogurt
6 Tablespoons fresh cilantro leaves, divided
Directions
Process 1 can of beans in a mini food processor until smooth. Place bean puree, remaining 2 cans of beans, hominy and next 8 ingredients (through oregano) in a 6-quart electric slow cooker. Reserve 1 Tablespoon green chiles. Add remaining green chiles to cooker. Top with chicken thighs. Cover and cook on low 8 hours.


Place chicken on a cutting board; cool 5 minutes. Shred chicken; stir into chili. Cover and keep warm.


Process reserved 1 Tablespoon of green chiles, yogurt and 2 Tablespoons cilantro in a mini food processor until smooth.


Place 1 1/2 cups of chili in each of 8 bowls; top evenly with yogurt mixture, remaining cilantro, cheese, green onions and jalapeño. Serve with lime wedges.