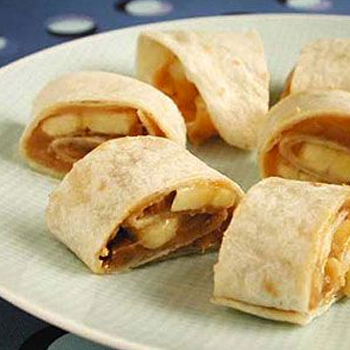 Peanut Butter Banana Spirals
Yields: 6 servings Prep: 20 min


Ingredients
1/2 cup peanut butter
1/3 cup low-fat vanilla Greek yogurt
1 Tbsp 100% orange juice
2 ripe bananas, sliced
4 (8-inch) whole-wheat tortillas
1/4 tsp ground cinnamon
Directions
Combine peanut butter and yogurt, stirring until smooth.


Drizzle orange juice over bananas; toss gently to coat.


Spread about 3 Tbsp of the peanut butter mixture over each tortilla, leaving a 1?2-inch border.


Arrange about 1?3 cup banana slices in a single layer over peanut butter mixture.


Sprinkle cinnamon evenly over banana slices.


Roll up the tortilla and slice into six pieces.